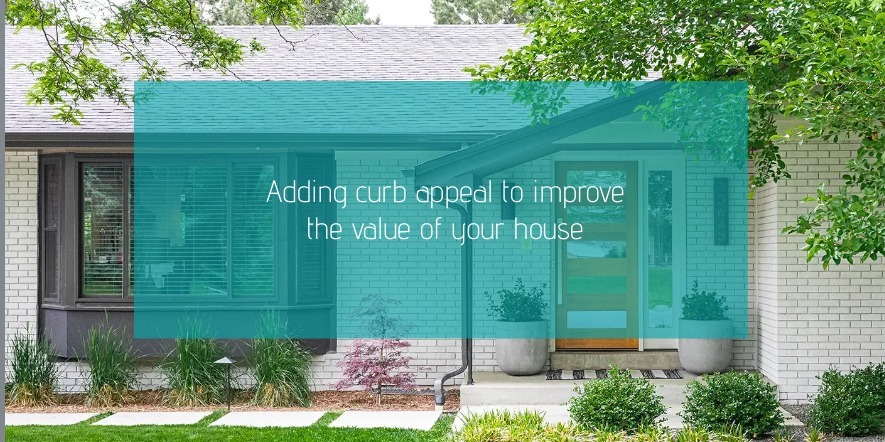 Adding curb appeal to improve the value of your house
Looking forward to increasing your home value? Well, we will help you with the most convincing tips that will not only add curb appeal but will also help you sell your house at a large profit. We all spend thousands of dollars on building our homes but what if it fails to give that very first impression we've dreamt of? We will help you with the most amazing ways that will make your home look good from the outside as it does from the inside. Let's check out.
Paint your front bright, but not too bright. If your front requires good paint, do invest in that. A good and freshly painted house stands a great chance to get sold instantly. All potential buyers like to spend on a place that looks beautiful with add-on features inside out. Even if your front doesn't need to be painted, you must go for a slight touch-up.
Place furniture or planter upfront. Adding a chair or two or a decent sofa on the front of your house makes your home look more inviting. If your home lacks front space, give a thought to placing planters. Not only will it beautify the place but it will sound like you like to give some thought to your living space.
Install new lights. Adding new lights to your outer space won't cost much. Moreover, it is a quick method to improve the curb appeal of your home. Lights enhance the look of your exterior during the night. If you strategically place the light, you can really set the right tone for your outer space.
Have your house pressure wash. If you have already tried all the above opinions or if you don't feel the need to try the above options, you can have your home pressure washed. Search for "Pressure washing companies near me" and you will come across the best pressure wash services around your locale. Opt for the one offering quality pressure washing at an affordable price range. This way you can have your home pressure washed by not investing much. Your home will look anew after the pressure washing services. Nor, making a profitable sale won't be difficult.
Make the tiny but essential changes. This is about changing door knobs, doormats, door paint, driveway lightings, etc. You can do a mini-makeover of your house and revamp it the way you like.
Plant trees or maintain your lawn. Trees or a perfectly mowed lawn make our home look aesthetically pleasing. Who doesn't want such beautiful houses surrounded by a good lawn or trees? Prefer to choose saplings if space is a constraint for you. But be choosy while picking plants.
So, these are some of the ways that will help you spruce up your entrance, resulting in the quick and profitable sale of your house. To effectively be able to add curb appeal to improve your home's value, you have to think like a buyer. Else, you can discuss these ways with us. We will help you revamp your space at an affordable price.