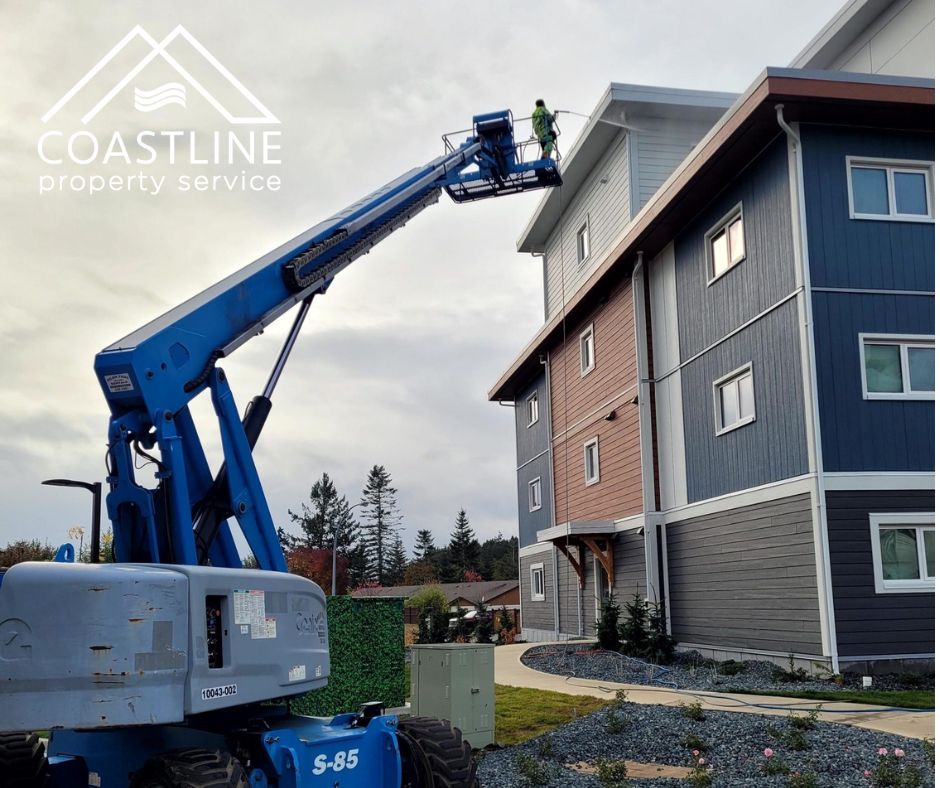 SOFT WASHING
Soft Washing makes cleaning your building's exterior easy and affordable, no matter what shape and size. There hasn't been a building on Vancouver Island that we weren't able to tackle. Our eager team of trained technicians will always find a way to get the job done safely and efficiently.
We are licensed, insured, and certified for working at heights and operating aerial lift equipment. Safety is our number one priority, we work safely and compliant and are thoroughly trained with fall arrest systems, rope work, and anchor point installation.
Soft washing works effectively in cleaning the most delicate surfaces on your building exterior such as vinyl siding, hardie board, stucco, aluminum, cedar shake, etc. For hardscape surfaces such as brick or concrete, the soft washing process is followed by a high-pressure cleaning.
Our services are safe and effective

We apply a protective biocide coating that gives long-lasting results

Our cleaning team is comprised of experienced and certified cleaning experts.

We use eco-friendly cleaning solutions to save your property from harsh chemicals

Soft Washing can effectively tackle multi story buildings

Affordable, Reliable, Efficient
Your office, be it a corporate office or brick-and-mortar business, should always be appealing to your clients and customers. Call us for spotless exterior soft washing services in Comox Valley, Courtenay, and Campbell River.