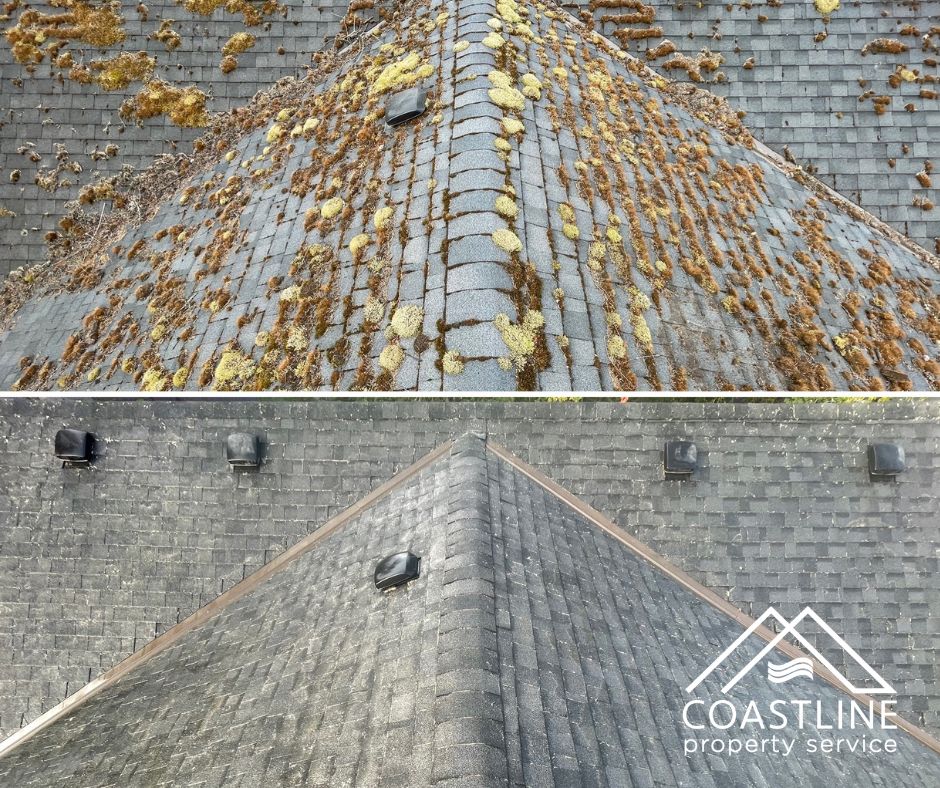 MOSS REMOVAL
We provide moss removal services to both commercial & residential properties in the Comox Valley, Courtenay, and Campbell River.
Coastline Property Service specializes in cleaning all kinds of roofs including:
Asphalt, Torch On, Tar and Gravel, Metal, Tile, Cedar Shake, and much More. 
Moss grows on all surfaces, especially porous ones. Keep all surfaces moss-free with our guaranteed moss removal services. Our moss removal and prevention methods will restore the surface to a like-new condition and the chance for regrowth will be greatly diminished.
Overtime moss / algae leads to early decay of your property as it begins to rot and damage the homes structure. Generally found on roofs and siding, it can spread and cause extensive damage over time that can lead to costly repairs.
Eradicate all the organic growth and prevent its return with our professional moss removal. Our roof soft washing services comes with a protective treatment and a 2 year moss free guarantee. We recommend retreating your roof at a fraction of the cost every 2-3 years to prevent the moss from returning and to prolong the life of your roof.
Our technician use eco-friendly products, advanced equipment and soft washing methods that are in compliance with your home owners insurance policy.
Our process starts with a gentle sweeping and brushing of the roofs surface to dislodge the bulk of the moss down to the roots. This is followed by a roof blowing service to remove all the debris from the surface. We then treat your roof with a biocide solution that is recommended by the ARMA (Asphalt Roofing Manufacturers Association) and the IRA (International Roofing Association). We do not use ineffective gimmicks such as laundry detergent or zinc powder. We use only the industry standard, commercial grade solutions to maximize the life of your roof and prevent regrowth. This is followed by a soft washing of the roof, and application of a neutralizing agent to the surrounding landscaping. We take extra precautionary measures to ensure that plants and vegetation are not affected by any potential chemical off-spray / run-off, providing you with peace of mind. Our technicians will do their best to clean and dispose of any roof debris around your home.
Keep your home looking clean and like-new year-round despite the island weather!
Get a FREE moss removal estimate with team.
​