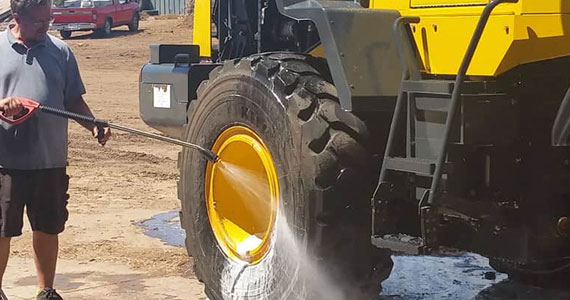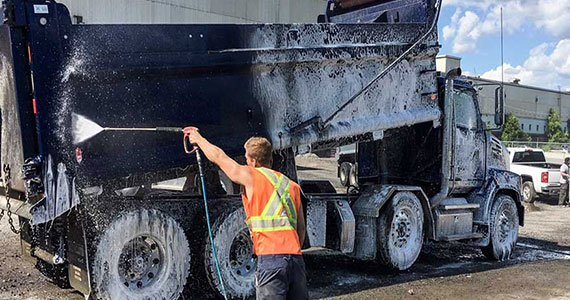 HEAVY EQUIPMENT CLEANING
Coastline Property Service provides heavy equipment washing services in the Comox Valley.
Heavy equipment should be cleaned on a regular basis. Cleaning your equipment is not only for aesthetics but can also help detect early stage mechanical issues for your equipment. Issues like leaks, broken parts, or rust can be taken care of at an early stage and it can help save you a lot of money, time and frustration.
Moreover, if your machine's engine is dirty it can get overheated frequently and cause more significant trouble. As the business owner, it is your responsibility to ensure that your machinery is well kept and in a road-worthy condition.  When the machines are clean and maintained, your employees will be happier to operate them as they will feel safe and well kept.
Our team of professionals are specially trained to clean a variety of machines and heavy equipment ranging from construction machinery, to trucks, trailers, and even air planes and helicopters.
We use commercial grade detergents and degreasers and chemicals that are designed to clean industrial equipment. Our fleet of trucks is capable of handling any job with consistency and reliability. Our rigs come equipped with commercial grade, high power machines that run at 8GPM, 4000PSI. We wash heavy equipment with hot water, and take note of all the areas that you need cleaned including: engine, radiator, joints, nipples, undercarriage, etc
We clean the following:
Bobcats

Forklifts

Loaders

Railroad

Cars

Tractors

Backhoes

Excavators

Drilling and shoring equipment

Cranes

Skid Steer

Track Loaders

Engines

Dump Trucks

Railroad Equipment

Dozers

Compactors

Airplanes

Helicopters

Busses

Boats

& Much More