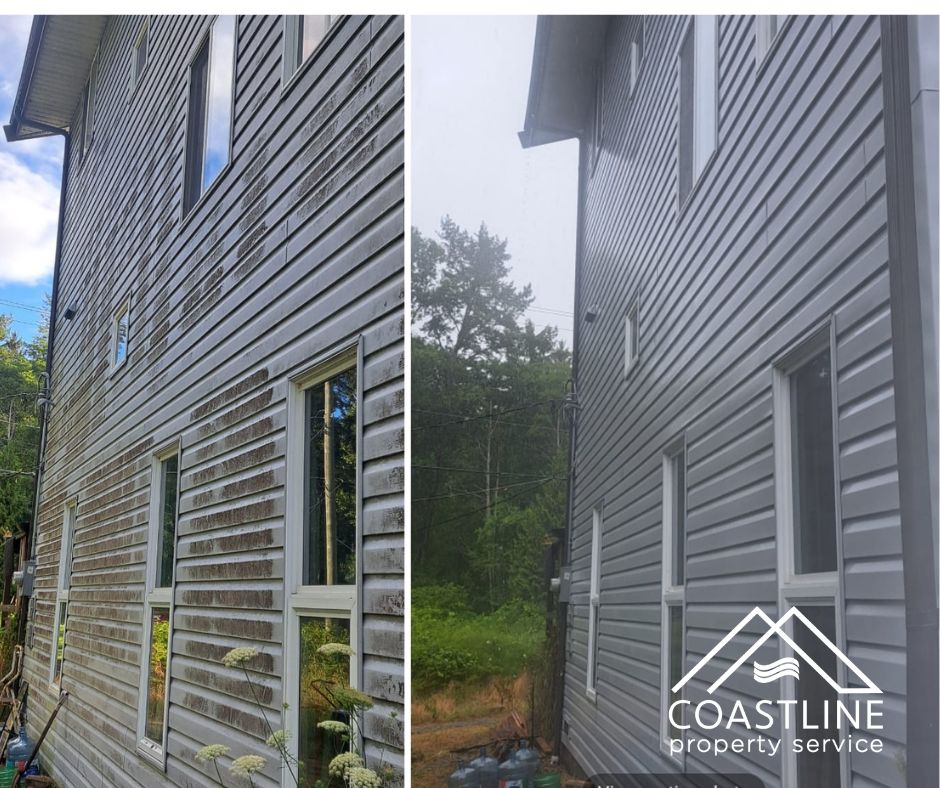 HOME EXTERIOR SOFT WASH
We provide soft washing services to both commercial & residential properties in the Comox Valley, Courtenay, and Campbell River.
Soft-washing is the new and improved way of efficiently cleaning delicate materials, such as expensive siding or various types of roofs. From basic algae to mold, mildew, and organic discoloration, soft washing will safely remove organic stains from your house and keep it looking brand new.
A soft washing service include Sidings, Soffit, Fascia, Window Frames, Skirting, and the gutter exterior.
Soft washing is effective at cleaning all kinds of surfaces:
Vinyl Siding, Hardie Board, Stucco, Aluminum, Cedar Shake, Wood, and much more
DON'T let anyone PRESSURE WASH your roof, siding (vinyl, stucco, wood), trim, or soffits!
Your biggest investments' exterior is exposed to extreme outdoor elements and UV light daily and these elements will create an accumulation of dirt, grime, mold, algae, and mildew. This accumulation damages and accelerates the aging process of exterior materials, resulting in premature oxidation and decomposition; therefore these materials need regular maintenance. In fact, experts recommend a full wash of your home's exterior at least once a year.
Regular washing and cleaning ensures that those stains and mold don't further spread into the foundation of your home causing damage to it's structure.
If you are looking for exterior home cleaning in The Comox Valley, you are likely dealing with stains related to the humidity / wet weather conditions which eventually lead to mold and algae. We provide professional exterior cleaning services to achieve a safe clean of your property so you can have peace of mind knowing that your property is cleaned in compliance with your homeowners insurance policy.
It is especially important to keep wood, stucco, and vinyl siding clean to protect and help maximize its surface life. If the exterior is constructed mostly of stucco, wood, or vinyl, your house cleaning would be better achieved with the use of our soft washing process. However, in conjunction with soft washing – pressure washing is the best option for cleaning hardscape surfaces such as brick & stone.
Does your siding look and feel chalky? This is called oxidation and is the result of the natural aging process of the surface. Siding doesn't last forever, eventually, the UV light from the sun along with the elements and prolonged exposure to algae, mildew, and organic growth will create dull chalky siding. We can't stop the sun's UV light or control the elements. The one thing that we can easily handle is the algae, mold, and mildew growing on the surface. These pesky infestations hold moisture to the siding's surface and are a cosmetic nightmare. With a regular yearly house wash – oxidation and algae can be kept under control, prolonging the life of your home's exterior.
Need a FREE house wash estimate?
​