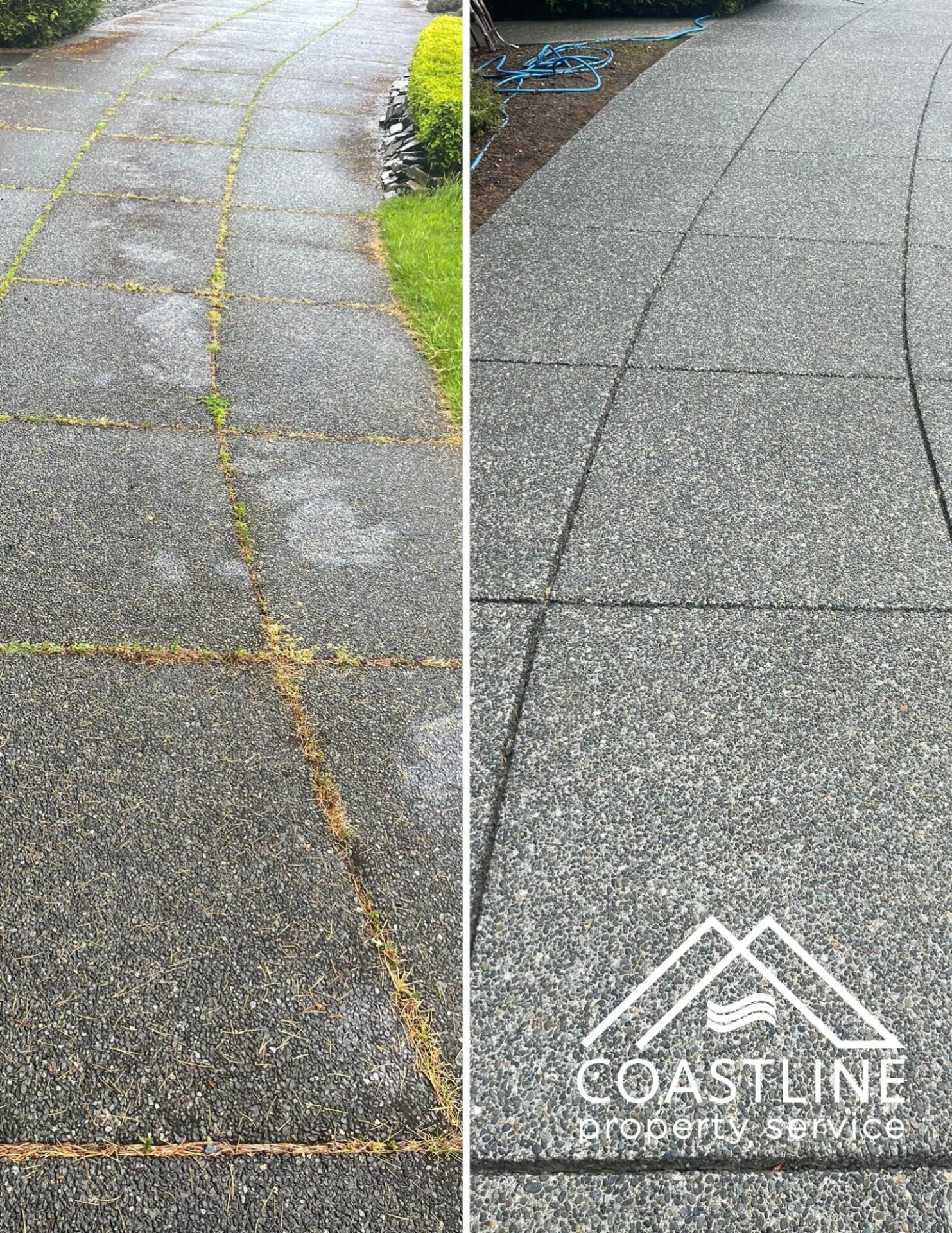 Driveway Surface Cleaning
The driveway is one of the most important features people notice about your house. It is the first impression of your home. Your property's appearance and curb appeal can be affected if your driveway is covered with grass, moss, mildew, or other grime.
Coastline Property Service provides driveway washing services in the Comox Valley, Courtenay, and Campbell River.
Oil residues and deep stains such as rust can cause the material to deteriorate, which will incur repairs and replacement costs. Dirty driveways become slippery with wet and cold weather, creating liabilities and safety hazards. Call us today to prevent a dirty driveway from lowering your property's value and putting your safety at risk. Coastline Property Service will restore your driveway's original appearance and preserve its longevity.
Why choose Coastline Property Service?
1.     All-In-One Solutions
Our innovative high-pressure steam cleaning system will remove even the toughest stains. Our all-in-one cleaning system can clean any type of surface including: concrete, aggregate, asphalt, tile, stone, interlock pavers, and more.  You'll be amazed by the difference high pressure cleaning can make to any type of driveway.
2.    Highest Quality Service
From the moment you call to the time we leave, our professional cleaners will provide unsurpassed service. We will work with your schedule to get the job done at your convenience. We will make note of all your requests and instructions to make sure that the work we do is completed to your satisfaction.
3.    Professional Cleaning
Unless you have commercial grade pressure washing equipment, cleaning a driveway is a time-consuming task. We can help you get rid of the tedious chore of cleaning your driveway every year. Our customers can enjoy a beautiful driveway all year round with regular cleaning services. With our chemical treatment and expert pressure washing technique, your driveway will stay clean for longer! Coastline Property Service offers free estimates so contact us now and don't let a dirty driveway affect your property's value!
4.    Price Integrity
Coastline Property Service is known for its price integrity, which means that you will always receive the best price for the value. You don't have to worry about hidden charges when you hire Coastline Property Service to clean your driveway. We guarantee transparency, so you only pay what you agreed to. Cheap things cost more, and for that reason we provide a good quality, competitive service that gives you your moneys worth. We don't do the cheapest job, but we do the best job!
5.    Experienced Team
Coastline Property Service is known for its quality and consistency. Providing top-quality services and customer satisfaction is our top priority. Our technicians are thoroughly trained and equipped to handle any type of job. We invest in our equipment and staff training to keep up with the evolving industry. Our team of professionals are friendly, courteous and detail oriented to ensure that your property is in good hands from the estimate process to the work order.