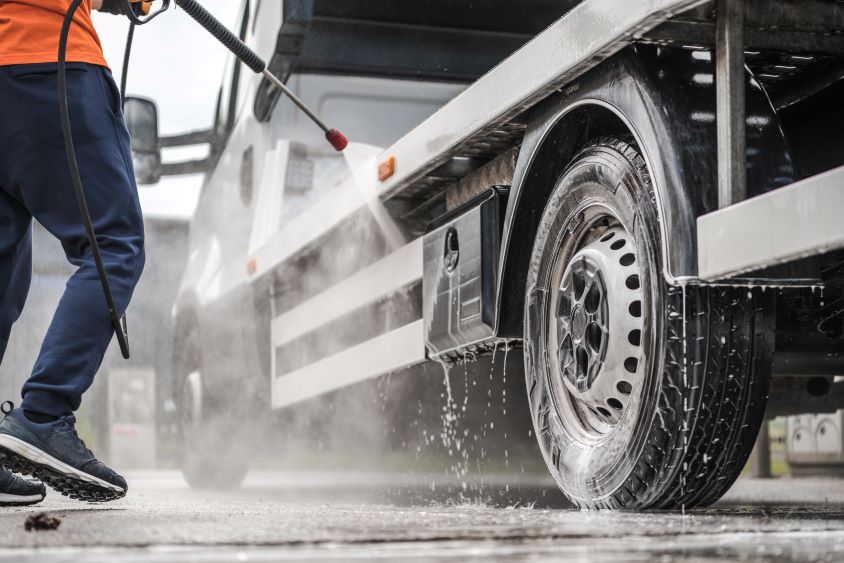 Truck Fleet Washing
Are you looking for truck fleet washing? Coastline Property Service provides a wide range of power washing services. We use environment friendly washing practices. We can help you remove all the dirt and debris from your trucks, trailers and containers. We have a team of fully trained technicians who can clean your vehicle using the right amount of chemical, pressure and brushing. Our cleaning products are safe for all kinds of vehicles and will not damage the paint on your trucks or any other machines. We provide excellent services at very affordable prices.
We provide feel washing for the following machines:
Climate Control Units

Straight trucks

Aggregates transport

Sleeper highway tractors

Delivery vans and trucks

Trailer exterior washing

 Garbage & Waste Management

Front and side tractors

Daycab city tractors

Straight trucks

Dump trucks

Roll-offs

Buses

Cars
Your fleet represents your brand and company. Keeping your fleet clean and well kept will not only provide preventive maintenance, but will also preserve your reputation and keep your drivers safe. With our experienced team, we can help you keep your equipment in top shape.
There are several benefits of getting a fleet truck wash.
Some of them are:
Hubcaps and suspension maintenance

Improved rustproofing capabilities


Touchpoint cleaning protects drivers and delivery recipients

Ventilation clearing leads to optimal engine intake performance

Eliminates slip hazards, dirty mirrors and lights, etc.

Ensures that your vehicles are complying with highway laws and regulations.

Keeps your drivers safe and presentable

Preserves your equipment through preventive maintenance.