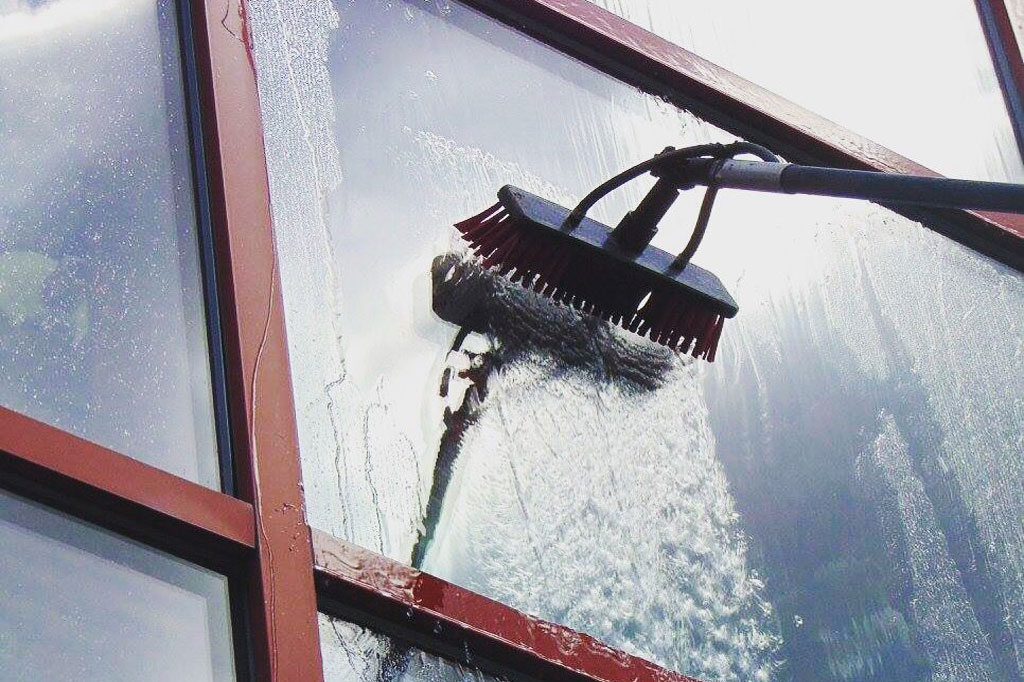 How Do Professional Window Washers Clean Windows?
Professional window washers have this job for a reason, i.e., to leave our windows sparkling clean. We can't bring about such results if we clean windows ourselves. Window cleaning also involves high risks if you are working at heights. Inexperienced individuals should avoid taking such risks and hire a professional window washer for cleanings. The professional window washers own high-quality tools that make cleaning easy and long-lasting. Let's help you out with the essential tools for window cleaning and the best ways to clean windows.
Window Cleaning Essentials
To kick off professional window cleaning, you must have specialized window cleaning equipment. Only the right equipment or tools can make window cleaning easy. Professionals always prefer high-quality equipment as they have a longer shelf life. Here's a list of some essential window cleaning equipment that you need.
Squeegee
Squeegee is highly efficient window cleaning equipment that doesn't create streaks like newspaper and paper towels. It has replaced newspapers, paper towels, and spray bottles. Once you get a hang of it, you can clean faster and more efficiently. For window washing in Vancouver, you can also get in touch with us.
Scrubber
The scrubber is another smooth and efficient cleaning tool used for all types of cleaning. This product has a quite long shelf life and takes less time to clean windows.

Bucket
The Bucket is required to fill water or soft solutions for removing dirt from the windows. The size of your bucket should be in proportion to the size of your squeeze. Your squeegee must fit well in the bucket.

Scraper
Scrapper is an efficient tool to pull off the tough marks on the windows. These tough marks could be dried-out paint spots or layers of dirt accumulated over the years.

Rags
You might need a lint-free rag to dry out the washed window. Rag is used at the end of the cleaning process. Professionals usually possess a rag that is specifically fabricated for window cleanings.

Ladders
A ladder is a must-have for professional window cleaners in their tool list. Professional washers use a three-step ladder that can reach up to 2.5 storeys high. Caution: Do not DIY window cleaning if you haven't worked on heights before.
Best window cleaning products that professionals usually prefer:
Detergent
Baby Shampoo
Vinegar
Dish Soap
The whole cleaning process
Step 1
Pile up your window cleaning essentials. Now fill the bucket in half with water and add the desired amount of detergent or shampoo. Stir it to create foam.
Step 2
Professional window washers always begin with mopping the window with the cleaning solution. They further have the options for mopping, either by lint-free towels, sponge, or scrubber. Dip your mop, towel, or scrubber in the collusion bucket and rub on the window. Work your way with all the angles.
Step 3
Use a squeegee to wipe out the window glass until it is dry. Follow the right direction for wiping and that should be upside down or from top to bottom. You can use a sponge or towel to remove dirt(if any) from the window edges.
Step 4
Using a scraper wherever required will efficiently scrape off stubborn spots.
Step 5
Do the same on the other side of the window.
Useful Tips for professional window washing
The best season for window cleaning in the spring season. The summer season causes streaks and makes your job difficult.
Window cleaning requires mild detergents. Harsh chemicals or ammonia will scrape out all the shine from it.
It is recommended to use distilled water as this contains minerals that easily wipe off all the dirt accumulated on windows. However, it is not mandatory.
Avoid cleaning with newspapers as they will leave off ink marks. Lint-free towels must be preferred.
Always cross-check from different angles once you are done with your cleaning.
Top to bottom approach for squeegeeing will efficiently squeeze out all the water.
Covering your window with screens will prevent dirt accumulation.
Windows should be washed twice a year.
Professionally cleaned windows enhance our property's appearance. Only a professional can do a window cleaning job with such precision. Also, it becomes mandatory to get windows cleaned by professionals to retain their shine and grade. To get rid of stubborn spots on your windows, call us today.