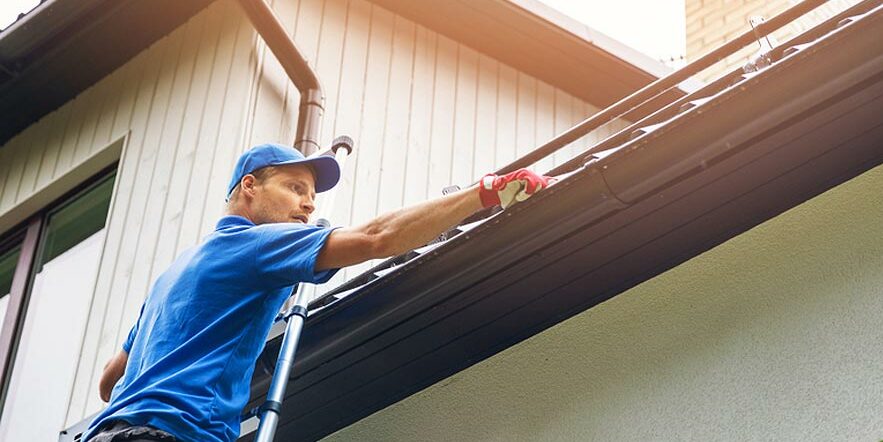 How Gutter Cleaning helps in preventing Water Damage?
The clean visible long lines adjoining the rooftop are popularly known as Gutter System. Those may not show how much they are essential for your smooth sweet home functionality as the drains protecting the roof of your house have significant importance for preventing water damage to your home.
The very cardinal role which is played by Gutters in your dwelling home rather than giving them aesthetic look is separating rainwater and melting snow from the roof maintenance of your house and protecting foundation of your home easily even in freezing temperatures.
If you are finding the crucial importance of preventing your home from water damage, then this blog is meant for enhancing your knowledge. The Gutter system of a home is the most important part when it comes to proper flow of downspouts of your sweet home, as without a smooth flow of those drains of melted- snow and water will distress you with trouble. This not only creates issues for draining. But, it also causes challenges of damaging your rooftops, gutter failure, wood damage and mess around your house.
What causes Gutter problem?
The very culprit which causes Gutter issues is the careless maintenance of them, due to their heavy capacity rainwater jams and interfaces in flowing sidings which results in facing challenges. Technically, the dirt of rainwater gets collected in edges of gutter around foundation of the home which directly leads to water damages and lodging. The long gap in maintaining gutters can lead to having a crack in gutters which leads to sudden breakages, wetness around and damages. The heavy flow of leakages can lead to destruction to gardens, flowers and trees which are situated nearby your home perimeters and get collected at a single place which not only destroys plants but also damages the inner soil which over-saturates them completely for future plantations.
The other damage which non-cleaning of Gutter spaces causes is damages of interior water. They completely damage rooftops and heavy moisture during freezing temperature causes water strains, weakness of ceilings which are evidence of lack of gutter cleaning.
Gutter cleaning, a cure to Water Damage
As water is the most essential part of mortals' life, some parts of the world are already facing scarcity of water and Gutter cleaning could be a contribution of yours in terms of saving water and preventing it from damage by Gutter damages.
When Gutters starts flowing out there is heavy loss of water and walls become so damp which is not in a condition to protect foundations of a sweet home. This looks extremely bad and can affect your health badly, so proper maintenance of Gutter can help be a barrier to water damage.
The gutter cleaning service in Comox Valley is managed precisely by placing at channel shows which automatically will help prevent water to collect in one place which can help to save water and prevent you from suffering serious damages.
Another saviour to water, the gutter cleaner can be is by repairing the broken holes of pipe in gutter cleaner. The next part of maintaining water damage would surely help in preventing it from loss and utilize less water which is been neglected from damage all around.
Benefits of Gutter cleaning
Increases your roof's lifespan –
Whenever you build your house, you wish to long-last it for years. Gutter cleaning can help you to the same. It not only helps your rooftops to have a good life, but it also maintains life of your home, preventing them from moistures when they become saggy and heavy after drainage.
Health and safety –
As it is said, health is a prior concern and targeted by un-hygiene, a lack of maintenance of gutter will surely lead to various diseases which can easily be transmitted to others. The cure for this is gutter cleaning which not only prevents water damage but helps you to protect yourself from various bacteria, pests which is harmful to your health.
Pauses water-flow –
The biggest saviour a Gutter cleaning can be is by protecting your house from overflow and wastage of water, as a most essential thing for livelihood. This can help in saving water for future, protecting walls and ceiling of your house. This not only protects your home but also saves money from severe damages during heavy loss.
Conclusion
Concluding above, gutter cleaning is the most essential contribution in not only preventing your home from damages caused by water but, also helping to maintain a sustainable lifestyle. Additionally, it can also help to deal with the major issues faced by underdeveloped countries such as scarcity of water. Hence, also minimizing the chances of diseases like Covid and Pneumonia.