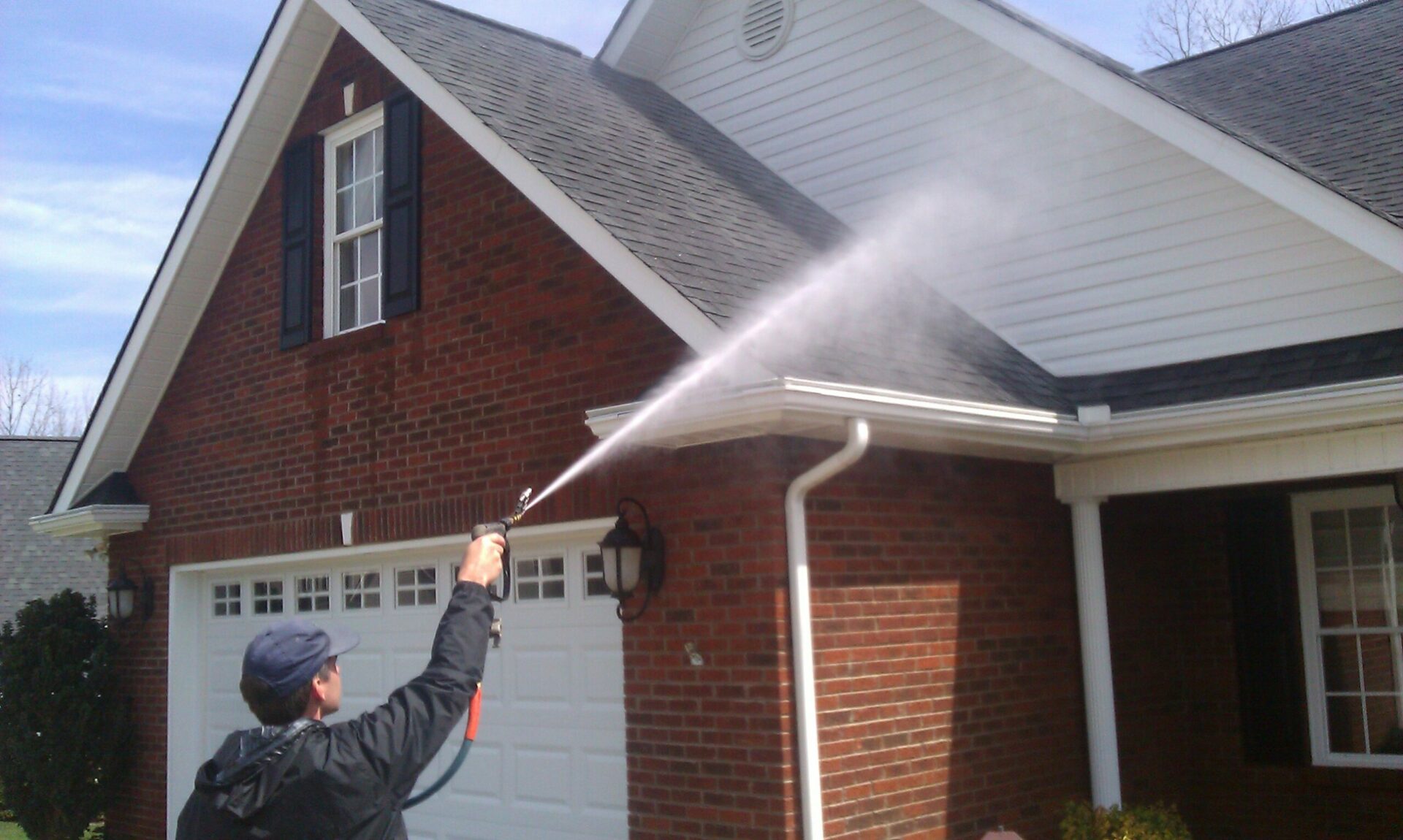 How often should you power wash your home?
The type of siding and its condition will determine the frequency of pressure washing. Pressure washing is usually not required unless there has been a significant buildup of mildew and grime. Annual power washing is a good idea for homes that are polluted or have soffits infested by cobwebs.
Vinyl, metal, and composite siding homeowners should pressure wash their homes at least once per year. Wood siding should only be pressure washed if there is any dirt or mildew buildup. If your home has wood siding, you can use gentle pressure to remove pollen and cobwebs once a year.
The dangers of pressure washing a house
It is possible to overdo pressure washing. Although the satisfaction of seeing dirt being washed away by a pressure washer is immediate, it's important to be careful not to crack vinyl siding, dent aluminum siding, blast off unintended paint, damage wood, or force water in places it shouldn't. Use the right nozzle and keep the wand at arm's length. Adjust the pressure to clean.
For the best pressure washing techniques, always consult with your siding manufacturer. Manufacturers may recommend that you avoid pressure washing altogether by using a soft bristle brush and mild detergent with water. Then rinse it off with the garden hose. There are many power washing companies in Comox Valley. A professional company like Coastline Property service can help you pressure wash your house.  
The Best Time to Pressure Wash Your House
The perfect time to pressure wash is late spring after the pollen has settled. Pressure washing involves inspecting your siding carefully. It's also a great opportunity to inspect your exterior for pest invasions and rot.
1. AFTER BAD WEATHER STRIKES
Inclement weather can cause damage to your home. The wind whips dirt and other debris around, and rain or snow can send moisture down the siding. Power washing your home after a storm can be a good idea. However, it is best to do so as soon as possible. This will not only freshen up your home but also allow you to see any damage that may need to be repaired.
2. PREPARING FOR PAINT WITH PRESSURE WASHING
Professional pressure washing siding can be used to prepare your home for exterior painting. Pressure washing is possible as part of our exterior paint services, provided it is recommended for your siding.
3. READY TO SELL
You can also hire Coastline property service when your home is on the market. Your home's curb appeal plays a significant role in determining its value and salability. You might live in your home for many years before selling. While you should clean it before you sell it, you shouldn't do so as the only time that you use power washing.
4. A PART OF ROUTINE MAINTENANCE
Power washing is a good part of regular maintenance and the best way to take care of your home's exterior. Most experts recommend washing your home once a year, or every six to twelve months. You can keep your home clean and prevent the growth of mold and mildew by power washing it on a regular basis.
Power washing should not be attempted unless you are an expert. Our team is skilled in power washing and other home improvements. We can help you keep your home clean and beautiful. To learn more about us and all our services, call us today at 250-871-8944 or email us at info@coastlinepropertyservice.com.
Deciding How Many Times
Advice on how often to pressure wash a house varies pretty widely. The most common advice is to have your house cleaned at least once a year, while some sources will advocate for far more frequent cleanings.
Although we may say that you should clean your house every day, the truth is that most houses can go without having to be cleaned for a long time. Modern siding, paint, and roofing materials resist dirt, mold, and algae very well. These materials were created to protect homes and are therefore very strong against the elements. Most homeowners know that their homes should be cleaned every other day. This is the simplest way to answer this question.
Pressure wash your house in Comox Valley BC
Do you think it is time to pressure wash the house? We can help you, whether you want to prevent potential problems in the future or simply because it feels like it. Our local pressure washing service in Comox knows what is best for both residential and commercial clients, given the local conditions. Want to learn more? We'd love to speak with you, so give us a call at 250-871-8944 or email us.