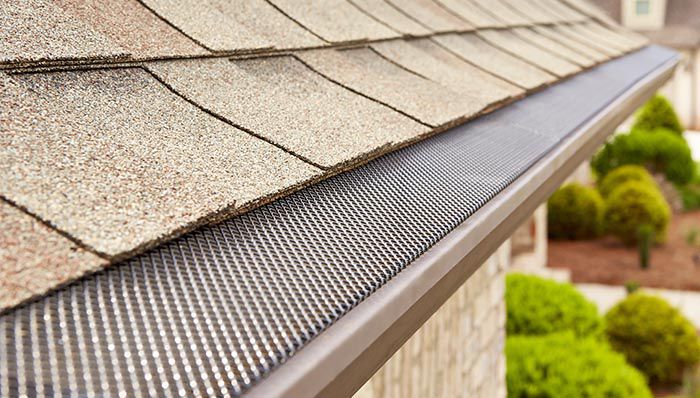 How to clean your gutters
Cleaning your house's gutters is a messy job, but someone has to do it. Leaf-clogged, stopped-up gutters can cause major problems, including wet basements, ruined siding or trim, and water-damaged indoor walls.
If you want to do your own gunk removal, there are several general guidelines you should follow.
How often you need to deal with the mess depends on what tree cover you have near your house. If your roof gets a lot of leafy shade, you might have to clean in both fall and spring. But if your house has few nearby trees more than roof-high, you might just need an inspection and cleaning once every couple of years. However, if you're surrounded by large overhanging deciduous trees, you may need to clean throughout the fall, then again in mid- to late spring.
If you install gutter screens or guards, you can inspect and clean less frequently. But these systems won't nab everything, and they can also become clogged, so they still need attention at least every few years.
The usual way to clean gutters is to climb a ladder and, using heavy work gloves to protect your hands from sharp edges and nails, scoop out as much debris as possible. If your gutters are covered with screens or another guard system, get rid of debris that has accumulated, then carefully lift the guards to remove the dirt in the gutters themselves.
Once the gutters are clean, use a garden hose to run water through them and verify that liquid flows properly, with no sags or blockages. Then look for leaks, and check that all downspouts are draining properly, spilling water several feet away from the base of the house's exterior walls. If you find a leak at a joint, caulk it with gutter sealant. There are several ways to patch other holes. One option is to remove the section of gutter and create a patch inside, using material that matches the gutter (an aluminum patch for an aluminum gutter, for example). Glue the patch in place with epoxy, then coat it with roofing cement, being careful to not create buildup that will block the flow of the water.
If any nails or screws that hold the gutters in place are loose, replace them with longer galvanized-metal screws. You may be able to bend distorted hangers back into their original form; if not, replace them.
Unless your roof is flat, perform all work from a ladder, not by perching on the roof and leaning over. Lift your ladder carefully, and position it properly. Put the bottom end against the house; from the top end, walk toward the house, lifting the ladder over your head until you reach the house and the ladder is upright. Then move the bottom end away from the house about ¼ of the ladder's length. The top of the ladder should extend at least three feet above the edge of the roof. Climb the ladder by stepping onto the center of each rung and using both hands on the sides. If you can't easily reach out laterally to collect debris from your position on the ladder, go back down and move it, rather than risking a fall by stretching too far.
Give power lines a wide berth while you work. They may not be properly insulated; touching one, particularly with a metal ladder or while standing on one, might bring a permanent end to your gutter-cleaning responsibilities.
The best way to get your gutters clean is to hire a professional gutter cleaner and avoid all the mess yourself. You can call us anytime at 250-871-8944 for a free quote on any gutter cleaning.